GATHERINGS & SPECIAL EVENTS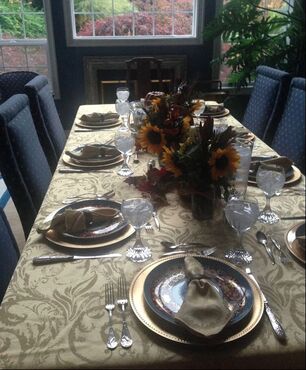 ​Say "goodbye" to stress and mess.
We'll handle the details so your event is unforgettable.
The Red Hare Personal Chef will partner with you to customize the perfect menu for your wedding, conference or private party
– regardless of head count, location or style
!
Services include innovative appetizer/entrée recommendations, as well as communications, delivery arrangements, ingredient selection/purchase, food preparation/service by
The Red Hare team
and kitchen cleanup.
Contact us today for a FREE consultation.
​​
​Parties, Parties, Parties
From the simple to the extravagant, Chef Sarah creates customized menus for all types of parties:
The Great Gatsby
Alice in Wonderland
Wine Country Murder Mystery
Thanksgiving in the Northwest
Valentine's Day Tapas Dinner Party
"Famous Couples" Costume Party
Hawaiian Luau Birthday Party
Weddings
Since 1999, Chef Sarah has helped couples celebrate their "I Do's" with fine Pacific Northwest cuisine. She has catered 100's of weddings ranging from intimate outdoor weddings to extravagant black-tie affairs. (Chef Sarah has also served as Wedding Coordinator for more than half of these weddings!)
Wineries
Fine wines and Pacific Northwest cuisine were made for each other. We celebrate this aromatic, flavorful union by catering lunches and picnics for your wine tasting event. We also serve at various winery events throughout Oregon and Washington, providing food that enhances the eccentric nuances of select wines.
The Personal Touch
Interactive Dinner Parties
– Get ready for our "Cooking Lesson/Dinner Party" mash up. Gather together for an unforgettable evening of culinary tidbits, delicious entrées and endless fun.
Cooking Lessons
– Wow your family, friends or coworkers with the specialty dish you've been longing to master. Chef Sarah will teach you, or a group of your favorite "foodies," how to prepare anything from lip-smacking ribs to melt-in-your-mouth lobster.
Romantic Dinners
– One of the best ways to say "I love you" is by sharing succulent entrées and dessert. Savor the aroma and undeniable flavor of Pacific Northwest cuisine as you dine in flickering candlelight. Share a hand-selected wine pairing as you indulge in the ambiance of gourmet elegance.
Gift Certificates
– Treat your loved ones to the gift of carefully prepared and deliciously wholesome Pacific Northwest cuisine. From working professionals to new mothers and from kitchen-shy seniors to those who need a little pampering, The Red Hare Personal Chef Gift Certificates are the ideal gift for any occasion.